Fewer Risks
Because no knots are used to provide the lift, there's no need to anchor or bury them and therefore no need to dissect deep into the face into the areas of important nerves, muscles, and blood vessels. The Lift is named after the Bidirectional, knotless, Quill sutures used, which are slowly absorbed by the body. There's less inflammation, less swelling, and less risk of infection than with some other techniques.
Less Scarring
All surgery leaves scars, but with a standard Bidirectional Lift, the scars are shorter and stop at the base of the ear. The Bidirectional Lift is designed to hide scars in natural creases and to preserve the hair, including the sideburn "tuft."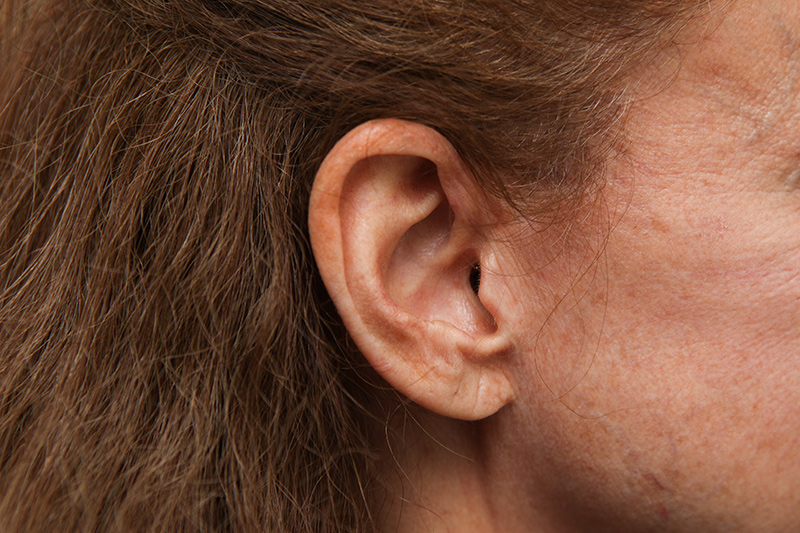 Here is a photo of the scar from a standard BiDirectional Lift at 5 years.
Faster Recovery
Because a smaller incision is required for a standard Bidirectional Lift and because the procedure is performed in the "superficial plane", the procedure is less invasive than traditional facelift surgery and significantly less invasive than a deep plane facelift. Bruising and swelling are minimal and our Westport BiDirectional Lift patients are generally able to return to sedentary occupations within ten days or less, and unrestricted physical activity at 21 days.
This post-op photo, taken in 2021, was taken 6 weeks after surgery
Less Anesthesia
The Standard Bidirectional Lift can easily be performed in Dr. O'Connell's accredited in-office surgical suite without the need for general anesthesia or intravenous sedation. You never have to worry about who is administering anesthesia because you won't be "put under" during the surgery.
For the Extended Bidirectional Lift Westport patients may still use intravenous sedation or general anesthesia, depending on your specific procedure.
Long-lasting Results
The results of a Bidirectional Lift last as long or longer than other facelift techniques, and much longer than Botox or fillers. The secret of the Bidirectional Lift is that it not only lifts the midface and jowl but volumizes the cheek with the patient's tissue. This gives the appearance of increased natural fullness without the need for fillers or injections.