INTRAcel Radio Frequency Microneedling

It's been called the next big thing in plastic surgery – and like other collagen induction therapies, it's all about growth factors.
INTRAcel, from Jeisys Medical, is the most technologically advanced RF treatment available today and it's the latest non-invasive way to tighten, lift and rejuvenate the skin. By utilizing its fractional microneedle multi-layer therapy, INTRAcel reaches all skin layers to tighten skin, reduce scars and stretch marks and improve wrinkles and lines. At Total Aesthetics ™ we feel it's one of the most effective and safe means to provide contouring in areas where non-invasive options are limited such as the jawline, jowl, and neck. Only topical anesthetic cream is needed, its safe for all skin types and patients are able to wear makeup the following day.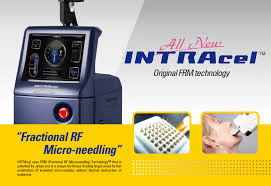 How INTRAcel Works:

INTRAcel FAQs
How does INTRAcel work?

INTRAcel reaches all layers of the skin with ability to deliver both monopolar and bipolar radiofrequency microneedling. This is a type of collagen induction therapy designed to stimulate the body's own collagen and elastin production to lift, tighten and rejuvenate the skin.

What are the INTRAcel results?

Typically INTRAcel treatment will result in:

• Smoother, tighter and more elastic skin
• Improvement of wrinkles and fine lines
• Improvement in stretch marks and scars including acne and surgical scars
• Improvement in crepey skin
• Diminished pore size

What is the INTRAcel recovery time?

Following INTRAcel treatment there is mild redness and possibly some bruising. Makeup is worn the following day and most patients are able to return to activities at that time.

When will the INTRAcel results be seen?

Improvements are generally noted 6-8 weeks after treatment although maximum collagen induction is usually observed by 3-6 months.

How many INTRAcel treatments are needed?

While some results may be visible after just one treatment, typically three treatments are administered spaced 4-6 weeks apart.

Can INTRAcel be combined with other treatments?

INTRAcel is frequently combined with other non-invasive treatments such as Botox, fillers and your skin care regimen.

Can INTRAcel be combined with platelet enriched plasma?

The potential benefit of combining platelet enriched plasma with microneedling technologies is an exciting topic in plastic surgery and Total Aesthetics ™ is pleased to offer PRP therapy with the Selphyl system.
Our dedicated team of nurses and administrative personnel strive to make your visit an exceptional experience.
Schedule Your Visit
Total Aesthetics ™
208 Post Rd. West, Westport, CT 06880
Tel: (203) 454-0044
Contact Us
Get Directions
Stay Connected