Halo™
"Results you have to see to believe

...without the downtime you'd expect"

Sun damage and the aging process can cause your skin to develop wrinkles, fine lines, and color irregularities. Skin can also lose its natural, healthy glow. Previously, patients had to choose between a laser procedure that produced great results but required a longer recovery and a procedure offering faster recovery but with compromised results.

Halo™ is the first ever hybrid fractional laser, manufactured by Sciton®—one of the world's most respected and renowned laser manufacturers. Halo™ is called a hybrid because it's two wavelengths, working in different layers of the skin combine the unique advantages of both "ablative" and "non-ablative" lasers to deliver the results you want without the downtime you'd expect.
Why should I choose Total Aesthetics ™ of Connecticut for my Halo™ procedure?
"I've got that Halo™ Glow!" Now, a revolutionary hybrid laser from Sciton® has changed the game. As the world's first hybrid fractional laser, Halo™ offers two wavelengths that work synergistically in both the epidermis and dermis to precisely target the years of sun damage and the visible signs of aging, along with the damage you can't see. Because treatments are customized to fit your busy schedule, Halo™ offers you the best of both worlds—beautiful results with minimal downtime, and best of all, with the signature "Halo™ glow."
Halo™ works on the damage you can and can't see. You can decide between a light treatment or a more intensive correction. Either way, you'll be ready for makeup in 48 hours, and your skin will be smoother and more vibrant. You'll see improvement in discoloration, fine lines, enlarged pores, sun damage, and the visible signs of aging. We're thrilled to be the very first plastic surgery practice in Fairfield County to offer Halo™.
We're pleased to be a Sciton® Practice. At Total Aesthetics ™, Halo™ is the cornerstone of our comprehensive skin care and rejuvenation program that begins with a computerized skin analysis and medical skin care designed just for you. We often continue with Sciton®'s famous BBL™ BroadBand Light brand of intense pulsed light (IPL) and proceed to Halo™ to complete your state-of-the-art rejuvenation process without need for multiple visits. We also offer Sciton®'s NanoLaserPeel™ and MicroLaserPeel® as well as Sciton®'s ProFractional™ and full-field TRL erbium to complete the spectrum of skin care known as "Resurfacing Perfected."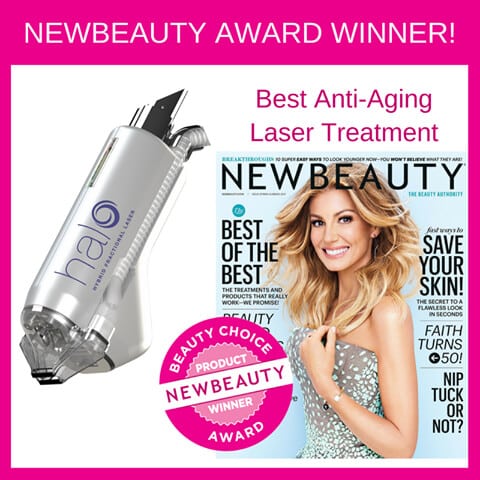 Schedule Your Consultation
Treatment and Benefits of Halo™
What Does Halo™ Treat?
Sun damage
Discoloration
Uneven skin tone
Enlarged pores
Poor and uneven texture
Dullness
Fine lines
The Benefits of Halo™
Improved tone and laxity of the skin with elimination of "dullness"
Smoother, softer skin texture
Reduction of elimination of discoloration in both the epidermis and dermis
Reduction in pore size
Improvement in fine lines and wrinkles
Less downtime and more gentle healing than similar laser treatments
Treatments are customizable for each patient
No need for anesthetic injections or general anesthesia
Improved reflectivity
The signature "Halo™ glow" of healthy, refreshed skin
How Does the Treatment Process Work?
Number of Treatments Needed
Treatment Process
In most cases, you will be prescribed an antiviral medication and some topical skin creams prior to Halo™ fractional resurfacing. During the treatment, the handpiece is gently moved across the areas being treated to allow the lasers to stimulate the body's natural healing process. You will feel minimal to no discomfort. Following treatment, the old, dull, sun-damaged tissue gently flakes away revealing healthy, fresh, and glowing skin. Halo™ stimulates a gentle replenishment of the skin's natural collagen over the following months to further enhance the results.
Number of Treatments Needed
While some patients are happy with the results after just one treatment, the best results from Halo™ fractional resurfacing require two treatments.
Improve Scars
Fractionated erbium laser resurfacing has long been regarded as one of the best treatments for acne scars. We've found that Halo™ provides great results with minimal recovery and fewer treatments than some alternatives. At Total Aesthetics ™, we offer a comprehensive array of treatments for acne and other facial scars, including Halo™, Sciton®'s ProFractional™ laser, as well as microneedling, both with and without radiofrequency.
Location of Treatment
One advantage of Halo™ is that its use is not limited to the face and areas such as the décolleté; hands and other body areas can be treated.
Concerns
Recovery

We will provide you with instructions on how to protect your skin for the first 24 hours following treatment. After the first 24 hours, your skin will begin to peel, but you will be able to resume your normal activities. After 48 hours, you will be able to wear makeup. One advantage of Halo™ is the treatments are customized for your busy schedule, and they only take less than one hour to perform. Downtime can vary from as little as one day to several days of mild swelling and flaking. Halo™ does not create the dramatic flaking and scabbing associated with some ablative lasers.

Results

You will see initial results between the second and fifth day following treatment. Your skin will continue to improve over time with most patients seeing the greatest improvement in the first two to three weeks. As long as you continue to protect your healthy, new skin with sunscreen, your Halo™ results can last for years to come.

Cost

The price can vary depending upon the number of treatments and areas treated. All costs will be fully explained to you prior to treatment.

Discomfort

Because Halo™ incorporates an integrated cooling mechanism into its handpiece, the procedure has minimal discomfort. A topical anesthetic cream is applied prior to treatment to ensure your comfort.
Before & After Photos
Frequently Asked Questions
What is a Halo™ MEND?

The "MENDS" of Halo™ are areas of "Microscopic Epidermal Necrotic Debris," and they are a normal result of the use of the 1470 non-ablative wavelength during a Halo™ treatment. As the "MENDS" rise to the surface and flake off, the rough texture resolves, and the skin takes on its new, healthy glow.

Can Halo™ be combined with intense pulsed light (IPL) treatment?

The results of Halo™ can be enhanced with the addition of intense pulsed light either prior to or at the time of a Halo™ treatment.
Our dedicated team of nurses and administrative personnel strive to make your visit an exceptional experience.
Schedule Your Visit
Total Aesthetics ™
208 Post Rd. West, Westport, CT 06880
Tel: (203) 454-0044
Contact Us
Get Directions
Stay Connected