Earlobe Repair
Over time ear piercings can stretch and even pull through the bottom of the earlobe. The result is a low, downward pointing earring or needs to wear those dreaded "clip-ons."
Earlobe repair is a simple in-office procedure performed at Total Aesthetics ™ under local anesthesia. The repair takes about 20 minutes per side and downtime is minimal. Very fine sutures are placed and removed in about one week. After about two months we'll re-pierce your ears at no charge. We'll even give you a prescription requiring your husband to buy you an expensive new pair of diamond studs!
Sometimes just one side needs repair and the typical cost of earlobe repair is about $1500 for both sides. Our full-time insurance coordinator is happy to work with your insurance plan to obtain all reimbursement that you are legally entitled to, however, the procedure is usually not covered by insurance.
Large or deformed earlobes
Sometimes genetics or the aging process can result in an overly long, large or widened earlobe. Some patients stretch their earlobe piercings using a "gauging" technique resulting in a misshapen appearance to the lobe. At Total Aesthetics ™, we can offer you over 35 years of surgical experience along with the sterility and cleanliness of a nationally accredited surgicenter to safely address all these common problems.
The earlobe has a delicate contour that must interface with the cheek in a natural, non-surgical way. Because of the critical nature of the anatomy along with the fact that the earlobe is usually exposed we feel it's important that earlobe repair is performed by a board-certified plastic surgeon.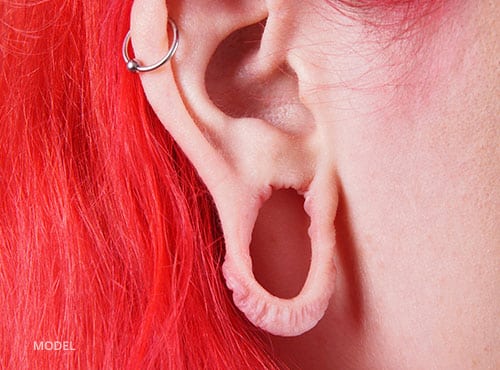 How is earlobe reduction performed?
Earlobe size varies greatly and as we age, our ears elongate. Earlobe reduction is an office-based procedure performed under local anesthesia with minimal recovery and well-concealed scars. We very carefully evaluate whether the earlobe is too long or too wide (or both) and review with you the various options for correction and how to best hide the scars.
Is earlobe repair covered by insurance?
In most cases, earlobe repair is not covered by health insurance plans. We will, however, at no charge to you, work with your insurance carrier to help you obtain any reimbursement that you are legally and legitimately entitled to under the terms of your plan.
How is a split earlobe repair performed?

While there are many techniques that can be used, in most cases the split or fissure is surgically removed along with excess skin or scar tissue. The earlobe is then rearranged to create the most normal appearing earlobe possible. In order to achieve the most aesthetic and precise repair, extremely fine sutures are used and the procedure is performed under loupe magnification. Following the procedure, the suture line is usually covered with a steri-strip that nicely hides the sutures. This is a minor, office-based procedure, performed under local anesthesia.

When can I wear earrings again?

In most cases, we can re-pierce your ears about 6-8 weeks following surgery. We'll ask you to bring in a small stud type earring that is not made with nickel. There is no additional charge for this service.

Can filler be placed in my earlobes?

Some patients have very thin and delicate earlobes. Injectable fillers like Radiesse, Juvederm or Restylane can be used to plump up thinned, aged earlobes.

How do I get started?

Prior to earlobe repair a consultation is usually required in order to review your medical history along with the options and risks of correction. Sometimes, for healthy patients, earlobe repair can be performed at the time of consultation.
Our dedicated team of nurses and administrative personnel strive to make your visit an exceptional experience.
Schedule Your Visit
Total Aesthetics ™
208 Post Rd. West, Westport, CT 06880
Tel: (203) 454-0044
Contact Us
Get Directions
Stay Connected