Injectable Fillers (the Juvederm® and Restylane® families)
One of the most common procedures performed at The Aesthetic Center is the use of injectable fillers to smooth facial wrinkles and help restore natural contours by adding volume to the face. The results are immediate and last up to two years. Dr. Joseph O'Connell believes that to achieve the most natural results it's best to use smaller amounts of filler more frequently rather than overcorrect once each year. In other words, if you keep the tank three-quarters full, you'll help stabilize the aging process rather than going through peaks and valleys of facial aging. We always have the latest fillers in stock, including JUVÉDERM VOLUMA®, JUVÉDERM VOLBELLA®, Restylane Refyne and Restylane Defyne.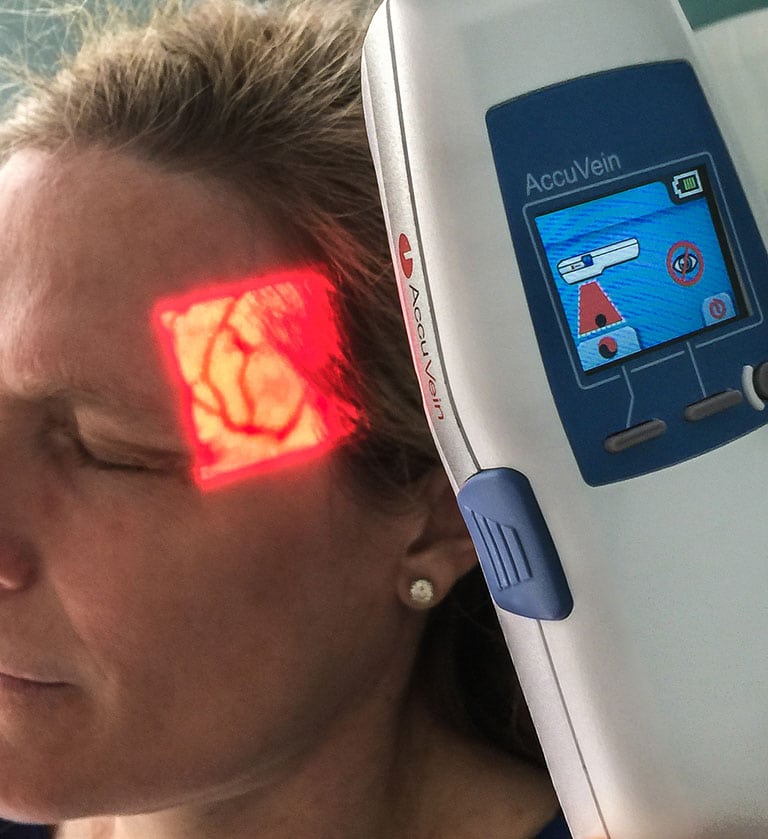 The Accuvein device allows Dr. O'Connell to avoid hitting blood vessels during Botox and filler injections.
---
Why your filler experience at The Aesthetic Center will be different
Dr O'Connell believes that the aesthetic results achieved from injectable fillers are profoundly dependent upon the training, skill and experience of the injector; that's why at the The Aesthetic Center all fillers are personally injected by Dr O'Connell – a nationally recognized, Ivy League educated and trained, board-certified plastic surgeon with over 35 years of clinical experience. While some practitioners claim expertise, Dr O'Connell has been injecting injectable filler since the late 1980's!
We believe that, as foreign material, all fillers should be injected under meticulously clean and sterile conditions. At The Aesthetic Center you'll receive the cleanliness and sterility standards of a nationally accredited surgical center.
We use only legitimate, U.S. FDA approved fillers, sourced directly from the manufacturer. We do not use illegally imported or "re-imported" products – we'll even open the sterile packaging in your presence so you can be sure you're not receiving an illegal foreign product.

Because we use only legitimate product, we can provide you with all discounts and rebates offered by the manufacturers.

We keep many fillers in stock so we can offer you the latest options for each and every application.
We're the first and only practice in Connecticut to use the revolutionary AccuVein® technology to minimize risk of bruising.
We understand that with injectable fillers it's important to "underdo it" – our goal is for an understated, natural, non-surgical result.
We have hyaluronidase in stock at all times in case an adjustment is needed.
Injectable Fillers FAQs
What fillers are used at The Aesthetic Center?

We are fortunate today to have many excellent filler options and Dr. O'Connell's preference is to use certain fillers for specific applications based upon the unique properties of each product. Click here to see Dr. O'Connell's article entitled The New Era of Designer Fillers. Because he prefers to replace "like with like" and because hyaluronic acid is an important component of our skin, Dr. O'Connell most commonly, uses hyaluronic acid-based fillers for both wrinkle filling and volumizing the face, including the lips and tear-troughs. We only use premium fillers hence the JUVÉDERM® and Restylane® families of products are heavily used in our practice. Hyaluronic acid fillers have an important safety advantage because they can be reversed with hyaluronidase – which is always available at the The Aesthetic Center.

In order to minimize discomfort we commonly apply topical local anesthetic cream prior to injection and fillers that contain lidocaine such as Juvederm Ultra XC® and Restylane-L® are preferred. Sculptra® Aesthetic and Radiesse® are also utilized at The Aesthetic Center.

Who injects fillers at The Aesthetic Center?

Because Dr. O'Connell believes that the aesthetic results achieved with fillers is greatly dependent upon the training, skill and experience of the injector, all fillers in our practice are personally injected by Dr. O'Connell.

One method of injection used by Dr. O'Connell is his "microfilling structural lattice" approach where he creates a structural web from micro-tunnels each containing an extremely small amount of filler.

Do you inject fillers at BOTOX® parties or in hair salons?

Because fillers are long lasting injections of exogenous material Dr. O'Connell believes that the highest standards of cleanliness and sterility are important. At The Aesthetic Center you get the cleanliness and safety of a nationally accredited surgicenter with the experience and skill of a board certified plastic surgeon with over 35 years clinical experience.

What fillers are used for cheek augmentation?

JUVÉDERM VOLUMA® XC, Allergan's hyaluronic acid-based filler with two year longevity and an FDA approval for cheek augmentation is commonly used at The Aesthetic Center for this purpose. Dr. O'Connell carefully examines and treats each zone of the cheek to optimize your aesthetic result. Corrections of age-related volume loss in the cheeks can also provide correction of the nasolabial fold and lateral tear-trough areas.

Can the temporal hollows and pre-jowl area be treated?

Temporal hollowing and the pre-jowl sulci (the depression in front of the jowl) is treated at The Aesthetic Center using hyaluronic acid-based fillers.

Can vertical lip lines be improved with fillers?

Vertical lip lines have several causes – muscular action, volume loss and damage to the skin. Because of this we utilize a multi-faceted approach when treating perioral lines including use of BOTOX® Cosmetic, lasers and fillers. We are pleased to offer both Restylane® Silk and JUVÉDERM VOLBELLA® XC, which are two fillers with FDA approval specifically for lip augmentation and correction of perioral lines.

What is a "liquid facelift"?

This terms refers to injecting fillers sometimes in combination with a neuromodulator to rejuvenate the face non-surgically.

Can filler be injected in the nose?

Dr. O'Connell commonly treats small nasal imperfections and asymmetries in the nose with filler.

Can filler be injected in my hands?

Wrinkles and volume loss in the hands is a common complaint and a tell tale sign of age, Radiesse® is the only dermal filler approved by the FDA for correction of lost volume in the hands.

What is Radiesse®?

Radiesse® is a dermal filler from Merz Aesthetics that contains Calcium Hydoxylapatite microspheres. Radiesse® provides immediate volumization and also stimulates the body to produce it's own natural collagen. At The Aesthetic Center we are pleased to offer Radiesse® to our patients.

What is Sculptra® Aesthetic?

Sculptra® Aesthetic is a poly-L-lactic acid based injectable from Galderma® Aesthetics. Through a series of treatments the product works to replace lost collagen and it can provide a more broad volumization than other fillers.

How long will my filler results last?

The longevity of the result will depend upon the filler being employed and the area of the body or face being treated. The various filler options will be reviewed with you during your confidential consultation at The Aesthetic Center.

Are injectable fillers painful?

At The Aesthetic Center use of topical anesthetic gel commonly precedes filler injection. Dr. O'Connell also commonly utilizes fillers that contain, or can be mixed with lidocaine.

Are there side effects with injectable fillers?

All aesthetic treatments carry risk of complications and side effects. The most common side effects of filler injection are temporary bruising and swelling at the injection sites. There are other risks and these will be discussed in detail at the time of your consultation at The Aesthetic Center.